The purpose of this post is to help you pick the right crappie fishing rod. When it comes to crappie fishing rods, there are a few things to consider. The first is how often you go/plan to go fishing. The second consideration is what kind of crappie fishing technique you will be using.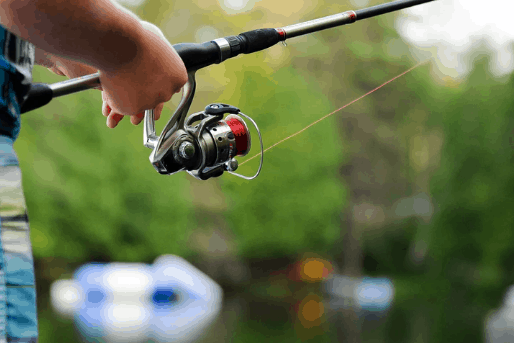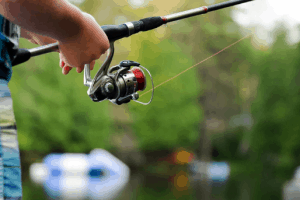 If you plan on fishing once or twice then any rod and reel combo will do. Don't spend a lot of money and go have fun. Walmart, Academy and Dicks have tons of inexpensive combos that will do the trick.
If you plan on fishing more than a few times a year, then it is important to consider your purchase more carefully. Depending on your what type of crappie fishing you prefer you will need to consider 3 things:
1- Length: This is pretty straightforward. Crappie rods (also called blanks) vary from 1 ft to 15-20 ft.
2- Action: This refers to the amount of bend a crappie fishing rod has. Low action bends closer to the butt while moderate action will bend closer to the middle of the blank. The faster action bends closer to the tip.
3 – Power: This refers to how much force is needed to bend the rod. The poles come in light, medium and heavy power some call it weight).
The next thing to consider is the material of the blanks. They are basically made of fiberglass, graphite or a combination of both.
Fiberglass: Sturdy, durable and a bit heavy
Graphite: Light, greater sensitivity (important if you will be fishing for several hours straight)
Next I will go into some more specific scenarios
---
Cane Pole – Telescoping Pole
These are your "old school" crappie fishing rods. They have been around forever for good reason, they work!. While cane poles are still very prevalent and easy to find, many anglers prefer telescoping poles.
They are excellent space saver and can extend from a few feet to 15 ft or more. They are easier to break down and to carry as opposed to the original cane poles.
Cane poles are just as long, but break up into 2, 3 or 4 long sections, making them a hassle to lug around or to store.
---
When/Where to Use a Cane Pole or Telescoping Pole?
Good question. There are several circumstances where these types of poles will be the best choice.
Clear water: If the fish can see you, they will get spooked. Whether fishing from the bank or from a boat, a long pole will put needed distance between you and the crappie. This is perfect for dropping the bait/ jig exactly where you want it with great precision. it also allows you to do so with less "splash". You stay well hidden and you make less noise.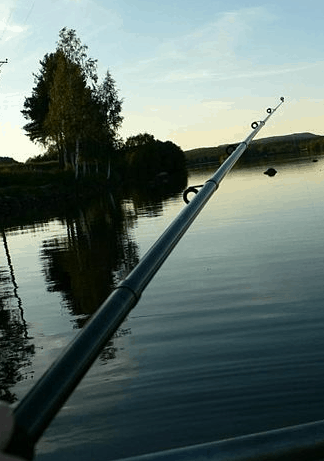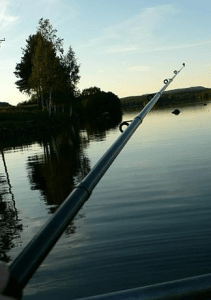 Heavy brush, logs, etc: I fish from the bank a lot. I often see some heavy brush or logs that I know for a fact are preferred habitats for crappie. Unfortunately, I cannot cast beyond the structure because I am guaranteed to get hung up on the retrieve.
I am forced to limit my cast between the logs/trees and myself. That means that there is a lot of water that I am not covering. I hope this makes sense. A 15-foot-long pole is perfect to fish anywhere around the structure. I can fish in front of the structure, beyond it and all around it because the hook will drop directly down where I want it and I will retrieve it by pulling it straight up out of the water. This ads a great amount of versatility that casting just doesn't allow for.
---
Spinning Rods
These are blanks that are designed to be paired with a reel. They vary in length and are equipped with seats and inserts for attaching reels. I prefer spinning rods as I exclusively use spinning reels while crappie fishing.
Much like the long poles described above, spinning rods are made out of graphite, fiberglass or both. Weight is a huge factor (especially if you are going to be jigging for hours).
These crappie fishing rods come in a variety of lengths ranging from 1 ft to over 15 ft. your choice will depend on the type of fishing you plan to do.
Each rod will have a grip section at the bottom. The grip is either made out of EVA (a type of plastic) or cork. Cork is lightweight and provides excellent grip and feel. However, it can get very slick if you are fishing in rain or if your hands are constantly wet. EVA is more "grippy". It is also lightweight, but it can get pretty nasty looking with dirt, fish scales etc…
Depending on the type of fishing you do, you may want to consider a high visibility tip on the crappie fishing pole. I do not own a high viz tipped rod, but I wish I did. When I fish on a barge at night and the pole is resting against the railing, I have a very difficult seeing the rod tip. There are rods that end in high visibility tips. This means that the last few inches of the rod are colored in a bright neon color.
---
When/Where to Use a Spinning Rod?
These rods can be used in just about all situations. If you are going to vertical jig, the standard 6.6 ft-7 ft spinning rod will work well for you. This is long enough to allow you to drop a bait anywhere around you with precision. The up/down presentation decreases the possibility of snags therefore saving your tackle and reducing frustration.
Medium/Light crappie fishing rods are my personal favorite while crappie fishing. They have enough sensitivity to feel the most minute of bites, but are strong enough to haul a crappie over the barge rails (or into your boat if you have one). These types of rods are also well suited for casting out and slowly retrieving your bait/lure.
Medium/light poles are also excellent when using a bobber. Usually when using a bobber you will have a lot of line out. The line will also be slack making setting the hook more difficult. In these case a rod with a bit more power is excellent to allow you to set the hook better/quicker.
While I like my medium/light fishing rods, I also have an ultra-light pole. This one is less than 5 ft and provides a lot of fun while crappie fishing. it is extremely sensitive. retrieving a crappie that has been hooked is extremely fun on an ultralight. The pole will bend nearly in half and you will feel every ounce of fight in the fish. This is great but be prepared to lose some bigger fish that will inevitably be attracted to your crappie bait. I have lost ton of catfish and large bass using an ultralight rod.
---
What is the Right Fishing Rod for You?
It really depends on the type of fishing you plan on doing. I have shown you the best uses for long cane poles/telescoping poles. They are excellent for fishing around structure with accuracy. They also decrease the chances of getting snagged (as opposed to casting out beyond structure and retrieving).
Spinning rods are extremely versatile. This makes them more common among crappie fishermen. Where and how you will be fishing will dictate your choices. if you are fishing from a bank or jigging from docks and piers, you could use a longer rod. I find the 6.6 to 7 ft range to be the best length for most types of fishing. If you fish on a barge with small doors and low ceilings, you may opt for a shorter rod length.
Click Here to See My Abu Garcia Black Max Spinning Fishing Combo Review!
I hope you found this post helpful,
Please leave your comments below,
Mike